Heel and side lasting machine with rollers, with thermoplastic, programmed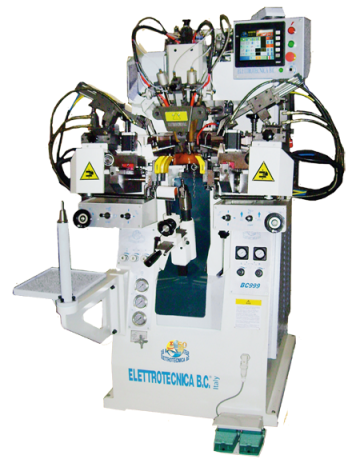 Machine for the lasting of heel seat and waist in one operation only, adaptable to any traditional pulling-over and lasting machine.
The lasting of the heel-seat can be realized with thermoplastic or neoprene
The machine have been studied so that it is possible to change working from low to high heel quickly and with minimal adjustments.
Two adjustable pincers, delivered as optional, allow the automatic upper pulling in order to obtain the maximal adherence
According to the kind of working the machine has 3 different possibilities of sequence for the waist lasting
Tool box included
Setting connection with mod. 231, 284.
The mod. 999 has as more, the touch screen program system - Video diagnostic system - Video program of all working data.
Technical details
Daily Production:
140 pairs/hour
Air consumption at 4 bar:
5 Lt/Min.
Absorbed power:
5 Kw
Dimensions:
Cm 112 (44") x 167 (66") x 210 (83")
Net weight:
Kg 950 (2094 LBS)