An expert in the footwear field knows that there are several steps in the work process, attention to detail is a very important feature and any problem arising in production must be solved quickly, finding practical and definitive solutions.
This is why our team puts commitment and reliability at the first place: we understand well how essential it is to have a partner ready to promptly take action and provide technologies that can support manufacturing in order to prevent problems arising in daily activities.
In our catalog, we offer uppers shaping machines which are doing an excellent job without damaging the accessories already present. Extreme precision is ensured through a digital display controlling the temperature and heating time.
Find out our models of shaping machines!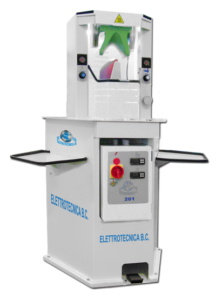 Contact us!
Go to the form to ask about our products!
Forming machine with copy of the bottom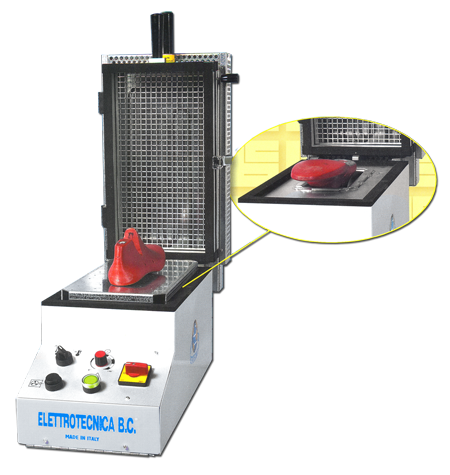 Using an appropriate plastic material in sheets, the mod. 334 can copy whichever object three-dimensionally (Iast, heels,
accessories, etc.). This machine is much used in order to design the footwear model on the obtained shape. Moreover it is
possible to produce expository goods for display windows. Shapes can be used to copy whichever material (wood, plastic,
aluminum, iron, alloys etc.).
Potentiometer for regulating the temperature 01 heating
Timer tor regulating the warm up time.
Technical details
Electric power:
Kw 1,7
Dimensions:
cm 32 (13") x 67 (27") x 33 (13")
Net weight:
Kg 15 (33 LBS)
Crimping machine for iron the finished upper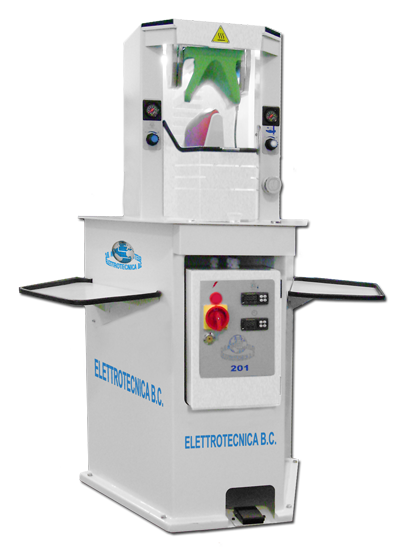 No more wrinkles. No deformity of the uppers. The desired crimping is succeeded without any additional equipment.
Thanks to the simple adjustments and the adjustable upper pad the variability of the upper crimping is very easy
as easy is placing of the upper without pincers.
Digital display for adjust the temperature and timer
Technical details
Daily production:
150 pairs
Electric power:
1 Kw
Air consumption at 6 Bar:
20 lt/min
Dimensions:
cm 75 (29") x 66 (25") x 150 (59")
Net weight:
Kg 133