As part of shoes manufacturing process, whether for women, men or children, precision and attention to detail are essential in order to offer a top quality product to customers.
Therefore, it is important to use machinery which are able to work with maximum technical performance at all times, even after many cycles of utilization: this is why at Elettronica B.C. we have patented an instrument for pressing control. Thanks to its high precision, this technology is able to measure the force discharged by the press on the sole during the pressing phase: in this way, the manufacturer is sure about the correct functioning of the press at any time and avoid asymmetries or defects in the finished product.
Find out all the technical details of our press control tool, browse the catalog!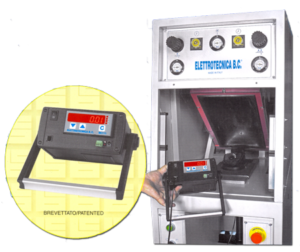 Contact us!
Go to the form to ask about our products!
Instrument for the press control - Patended -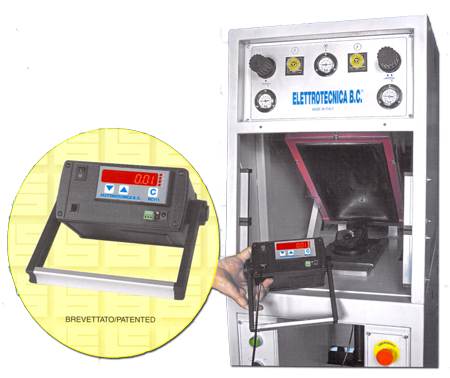 Instrument to high precision for the measurement electronic of the force unloaded from the sole press machine on the sole during the pressing operation. It detect from 0 to 100 Kg/cm2. With the data of the Mod. 111 can be have the certainty to 100% of the corrected operation of the pressed. Putting this check 1 time a day you have security that the pressing process is constant (for example a bad mechanical operation of pressed or different force between 2 sides of the sole press machine ).
Technical details
Dimensions:
cm 9 (4") x 16 (6") x 3 (1")
Net weight:
Kg 0,5 (1 LBS)
Electric power:
4 battery AA - 1,5 V