For sixty years, Elettrotecnica B.C. has brought quality to the world of footwear production. This is possible thanks to a continuous commitment to the development of always better and increasingly tailor-made technologies, according to customer needs.
Our reforming machines perfectly represent the following principle: the models available have different features that meet the most different requirements. Some systems are designed for modeling the shoe, such as the rigid or silicone type system, which suit both men and women shoes, even with high heels. Furthermore, the molds are manufactured according to the outline required by the customer.
Find out our models of reforming machines!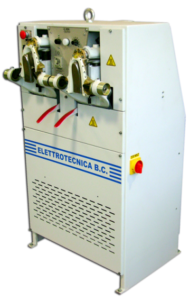 Contact us!
Go to the form to ask about our products!
Machine to form the edge and the top of the quarter, vertical position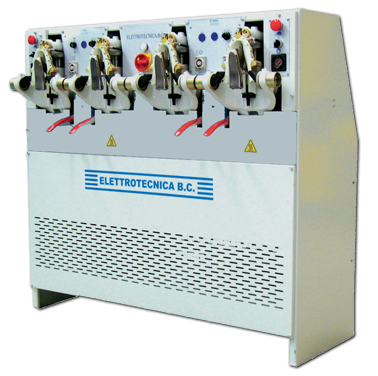 suitable for man and woman shoes with long heel
- moulds temperature control and visualization
- moulds created on costumer's projects
- 2 heated stations
- 2 cold stations
Technical details
Dimensions:
cm 134(53") x 63(25") x 128(50,5")
Net weight:
Kg 400 (882 LBS)
Absorbed Power:
Kw 1,4
Air consumption:
9,5lt/pair
:
Machine to form the edge and the top of the quarter, vertical position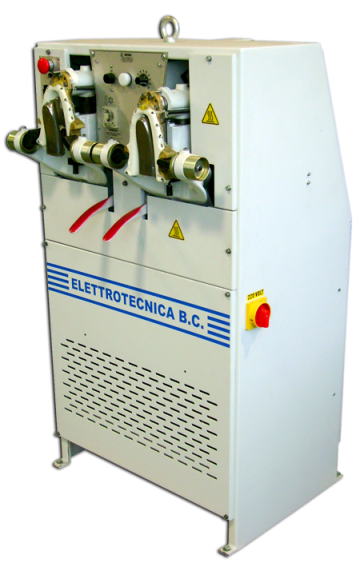 suitable for man and woman shoes with long heel
moulds temperature control and visualization
moulds created on costumer's projects
1 heated station
1 cold station
Technical details
Dimensions:
cm 70 (27") x 63 (25") x 128 (50,5")
Net weight:
Kg 200 (440 LBS)
Electric power:
0,7 Kw
Air consumption:
9,5 Lt/pair
Daily production:
1400 pairs