Why employing an Elettrotecnica B.C. branded technology does it make a difference? Because our reliability and our professionalism have a history of over sixty years, during which time we have experimented many solutions, improved what no longer offered the best performance to our customers and designed innovations becoming a concrete help and support to the work of the shoe manufacturers who choose us.
By purchasing Elettrotecnica BC technology, a manufacturer is buying the assurance that everything will be built to effectively support his business: this is what we offer with our insole fixing machines, which, thanks to the different technical characteristics, can meet any kind of needs and requirements.
Find out the models and details of the insole fixing machines in our catalog!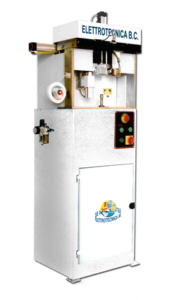 Contact us!
Go to the form to ask about our products!
Automatic machine to fix the insoles with tape - Patent Pending-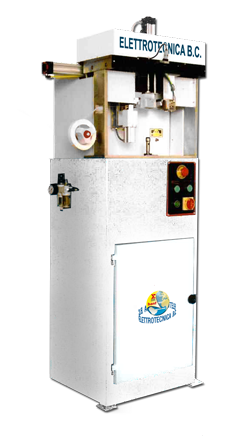 Technical details
Dimensions:
cm 60 (24") x 50 (20") x 160 (63")
Net weight:
Kg 128 (282 LBS)
Daily production:
250 pairs / hours
Electric power:
0,23 Kw
Pneumatic upper attaching machine

Technical details
Dimensions:
cm 90 (35") x 70 (28") x 160 (63")
Net weight:
Kg 140 ( 308 LBS)
Electric power:
Kw 0,33
Air consumption:
0,2 lt/nail
Pneumatic insole attaching machine with crop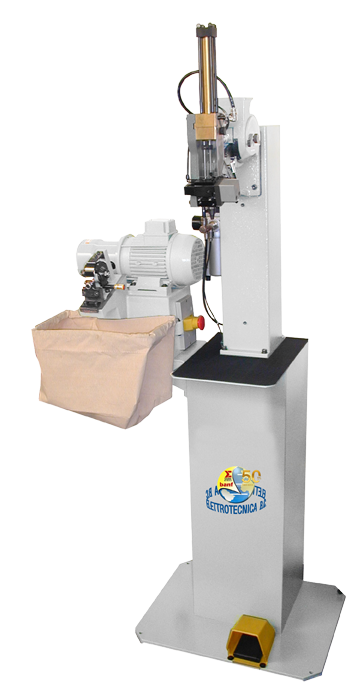 Pneumatic machine to tack the insole to the last by nails, with single-shot mechanism, including insoles trimming device.
Nails used: round leg. 1.05 mm diameter, convex head, length from mm 12 to 16.
Optional head release instead of pedal
Technical details
Dimensions:
cm 80 (31,5") x 60 (24") x 160 (63")
Net weight:
Kg 80 (176 LBS)
Air consumption:
0,2 lt/cycle
Electric power:
0,2 kW
Pneumatic insole attaching machine

Technical details
Dimensions:
cm 80 (31,5") x 60 (24") x 160 (63")
Net weight:
Kg 80 (176,5 LBS)
Electric power:
Kw 0,33
Air consumption:
0,2 lt/nail