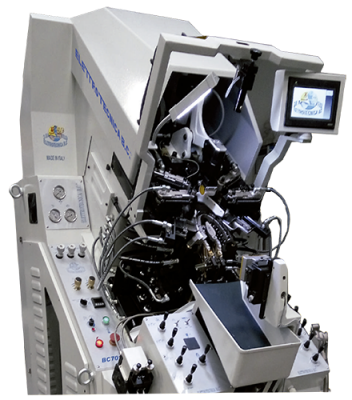 Adjustable in front and back part applicator
Applicator with interchanging head
Applicator with automatic left and right
Wipers system long lasting
9 pincers
Revolving pincer 5
Last support double release (with mechanical detecting for stop precision)
Setting position of pincers adjustable separately between the left and right pincers group
Setting position of pincers with horizontal opening for a quickly use of the different lasts models
Independent side bands and Teflon band.
Optical projector
Last support adjustment with external handles
Pressing pressure, Teflon band, side bands, spoon wipers, climb applicator, low pressure pincers, pincers closing, all external adjustable with reading manometer.
Tool box included
Single pincers opening
Video with program
Setting connection with mod. 140, 241S, 182, 230, 241.
Technical details
Dimensions:
cm 114 (45") x 183 (72") x 210 (83")
Net weight:
Kg 1100 (2425 LBS)
Absorbed power:
Kw 3
Working pressure:
5 Mpa
: