Heel lasting with thermoplastic and programmed tracer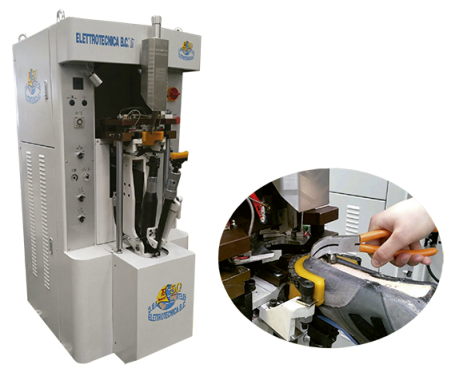 The mod. 680-680TI is a hell lasting machine with termoplastich equipped with programmed tracer, this allows of being able to carry out working from man , woman and child. The thermoplastic system of injection is completely automatic, with the possibility to regulate the amount through potentiometer placed on the front plate. The mod. 680-680TI is equipped of support head adjustable in height and depth in order to guarantee to whichever type of shape the just position. All the parts in motion are set in action from a hydraulic system in order to guarantee a highest reliability. Like all the products of Elettrotecnica B.C. also the mod. 680-680TI come subordinate to numerous test of
reliability and quality in order to guarantee to the customers a product with the better relationship quality/price.
Technical details
Dimensions:
cm 76 (30") x 101 (40") x 168 (66")
Net weight:
Kg 200
Electric Power:
Kw 0,7
Air consumption:
9,5 lt/pair
: