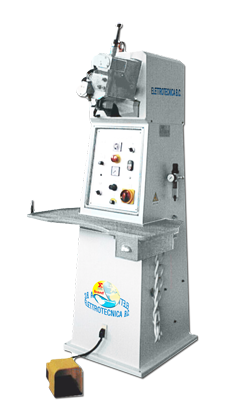 Lastin machine with hot melt rod adhesive application.
The machine is complete with a range of all the components necessary for adaptation for different work operations:
Tapered roller speed variator.
Glue and tapered rollers pedal control (aut/man).
Pounding roller temperature control.
Pounding roller angle adjustment.
Pounding roller pressure adjustment.
Adhesive quantity precision control.
Continuous adhesive supply with pedal control.
Electronic adhesive temperature adjustment.
Easy removable glue melter.
The various adjustment control system make this machine ideal for all types of materials and shoe models/lasting.
Technical details
Dimensions:
cm 62 (24") x 80 (31") x 175 (69")
Net weight:
Kg 220 (485 LBS)
Electric power:
Kw 0,75
Daily production:
1000- 1400 pairs