Rotary hot&steam tubular mocassins conditioner 4 pairs and 8 places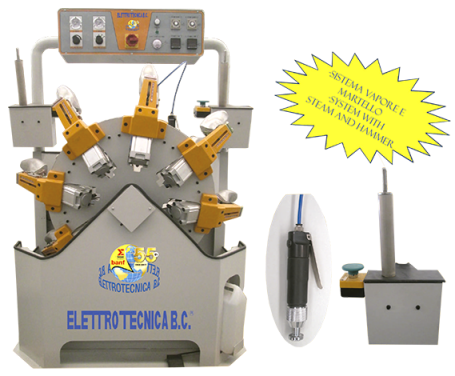 TYPES OF WORK
Tubular mocassins uppers, insole strobel stitched uppers. It is also possible to condition the finished mormal or sport shoes.
OPERATION
Upper are loaded by the operator on the alu-moulds in shortened position, then they are extended and broughtto the original size. According to the type of required conditioning they can be processed by heating and manually treated by a rubberised hammer or by a small pneumatic pounding hammer.
BENEFITS
• Loading of the upper onto the moulds are facilitated by shortening of the alu-moulds.
• Electronic control with digital visualization of heated moulds temperatures.
• Each mould is studied and prearranged for its extension on two size.
• The moulds are constructed according to the shape of customer's last.
• Preheating position for the moulds waiting to be employed.
Technical details
Dimensions:
cm 122 (48") x 70 (27") x 164 (64")
Daily production:
1000 pairs