Automatic machine for humidifying/reactivate counter and side part of the upper, with mixed combination of hot air and steam.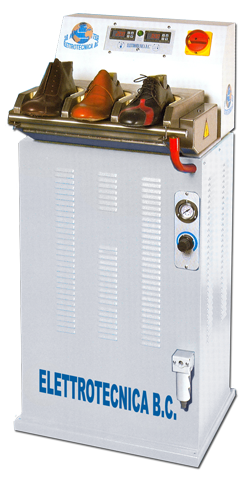 The simultaneous action of the superheated dry steam, mixed with hot air, soft the counter and side part completely and in short times.
Steam quantity adjustable up to 6,5 m3/h
Air temperature adjustable up to 200°C /392°F.
Technical details
Dimensions:
cm 53(22") x 58(24") x 116(46")
Net weight:
Kg 72 (159 LBS)
Daily production:
1400 pairs
Air consumption at 3 Bar:
40 Lt/Min
Electrical force:
4,8 kW