Sterilizing machine for footwear in box - Patented -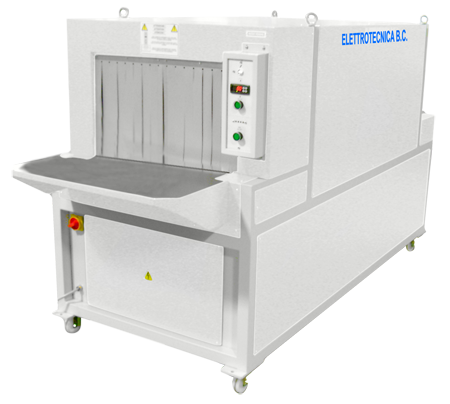 Treatment of sterilization of footwear in box with double combined treatment:
First part; heat from quartz lamps in order to quickly stabilize and in homogenous shape the temperature of the shoe
Second part; with bactericidal lamps UV.
This treatment eliminates all those bacteria that form mildews on the skin or woven footwear, in particular the bacterium Aspergillus Niger
that is also cause of pulmonary allergies to the persons. For the footwear, in fact, is much frequent that after the travels in container
or long time store in the warehouses, stores etc, the shoe loses the brilliance originates, showing white shadows and opaque (mildews).
With the mod. 101 eliminates the bacteria that insure favorable climatic conditions begin a process of multiplication giving therefore
beginning to mildews, much unaesthetic.
The mod. 101 the much most hygienic one guarantees a product at the same time.
Equipped of automatic conveyor, with speed adjust for the various output requirements.
On request automatic spray system for anti-mildews product (PATENTED).
Technical details
Dimensions:
cm 100(39") x280(110") x143(56")
Net weight:
Kg 200 (416 LBS)
Power supply:
V 220
Electric power:
Kw 4,1
:
:
: