Programmed hydraulic press for press, plate and punch leather - PATENT PENDING -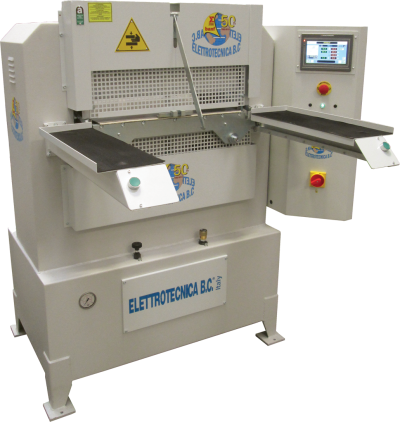 The hydraulic press uses a self-learning program system that guarantees maximum precision as well as the simplicity of processing variations. Used for embossing, plating, punching, for processing all types of leather and/or synthetic materials.
The main characteristics are:
Planned work pressures;
Planned cycle times;
Planned processing temperatures;
The simplicity of program management;
Its high speed of approach and opening;
Its absolute silence.
Technical details
Dimensions:
Cm 110 x 110 x 160 (43") x (43") x (63")
Net weight:
Kg 950 (2094 LBS)
Motor power:
HP 3
Heating:
Kw 2.4
Planes:
mm 400 x 500
Aperture:
mm 75
Assorbed power:
10,2 kW