Machine for the realization of the upper in 3D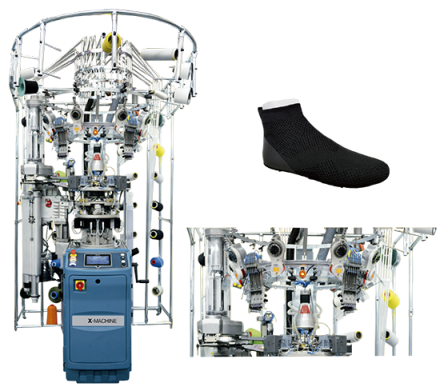 Single cylinder electronic knitting machine with 4 reciprocating-motion feeds and 2 points of selection per feed and rotation sense, which knits various technical Intarsia items. This system, patented, allows the possibility of patterning on all 4 feeds giving high definition and a sharpness of colour.
MAXIMUM SPEED:
180 rpm in unidirectional motion.
CYLINDER SELECTION:
Selection on the cylinder through actuators with 12 levels (8 in total: two for each feeder for both rotation senses).
SINKER CAP SELECTION:
Actuators with 6 levels (4 in total per sinker selection).
STRIPPING YARNFINGERS:
6 multi-position yarnfingers per feed.
TRAPPER FOR BARE AND COVERED ELASTIC YARN:
3 trappers per feed.
DIAL JACKS AND YARN CUTTER:
Yarn cutter saw release with up and down dial movement, driven by step motor to reposition the saw blade height.
SUCTION SYSTEM:
Take-down aspiration by 2 suction fans or a central suction system.
Items suction tube Ø 60 mm.
Items transfer tube Ø 60 mm.
Air limiting valve with electronic incremental programming
STITCH CAMS:
Stitch formation adjustment by step motors, independent on each feed.
Possibility of loop widening, tightening and shading on the same area and/or course.
Step motor to reposition cylinder height.
On board items sizing, adjustable in both cm. and inches.
MAIN KNITTING POSSIBILITIES:
Single or double welt carried out by dial jacks, in several selections, with knitted and laid-in elastic yarn. With 4 feeds on the same course: patterns and/or supports placed with Intarsia technology, eliminating cut yarns inside the item. Every knitted pattern has up to 3 technical ways. 4 feed selectable terry in both rotational senses.
SINKER CAP:
Closed-tracks cam box with angle cams position driven by a step motor for precise loop/stitch control
YARN FEEDERS:
6 mechanical yarn recoveries per each feeder (24 in total).
OPTIONAL:
Elastic feeders with step motor.
EFS920 Memminger – IRO for yarn recovery.
YARN SENSORS:
Latest generation of optical yarn sensors.
CREEL:
With rear yarn rack.
LUBRICATION:
Pneumatic pump with oil recycling.
MACHINE MOVEMENT:
Torque Motor.
ELECTRONIC CONTROLLER:
Integrated 'quad core' from Dinema for the serial checking of all electronic systems. Latest generation of graphic display with a
colour touch screen.
PROGRAMMING:
Software S.I.S. Plus with totally graphical integrated programming.
Technical details
Diameter:
4"
Needle No.:
96 - 108 - 120 - 120 - 132 - 144
Needle Gouge (GG):
18 - 18 - 18 - 24 - 24 - 24 -
Machine Gouge (GG):
8 - 9 - 10 - 10 - 11 - 12
: