Electronic roller machine for yarns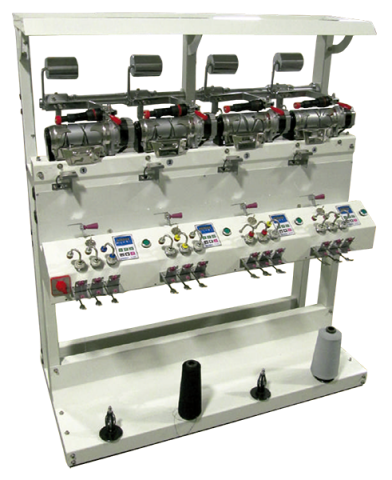 Electronic spooling machine with grooved roller for the preparation of packages for dyeing, weaving, flat and circular knitting, hosiery and warping with or without paraffin, with or without pre-set square footage. Possibility to regulate the locity (from 200 to 1000 mt/ min) and the phase shift in each element with 4 heads. Yarn braking, counterbalancing and frictioning of the portacono, adjustable in each head, allow to obtain a homogeneous density that guarantees excellent results in all processing processes. The motorized praffinator ensures a uniform distribution of the paraffin; the wire tensioner is motorized and self-cleaning. The wire passages protected by ceramic, avoid any friction harmful to the quality of the yarn. Each element works as an independent unit in single or multiple configuration. The high quality of the materials used in the construction makes the machine solid and durable over time. Maintenance, easy to perform, is essentially limited to normal cleaning.
Technical details
Dimensions:
cm 148 (58") x 71 (26") x 127 (50")
Net weight:
Kg 160 (LBS)
Electric power:
Kw 0,8
Winding speed:
Max 1000 mt./min.