Heel and side lasting machine thermoplastic and nails, programmed, full optional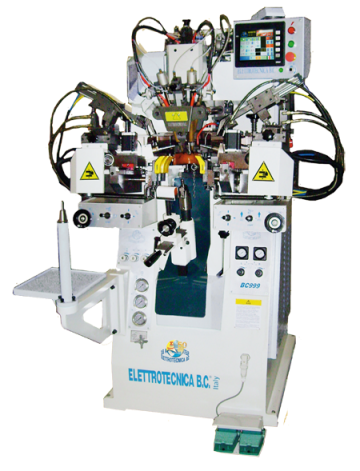 Machine for the lasting of heel-seat and waist in one operation only, adaptable to any traditional pulling-over machine.
HEEL SEAT - The lasting of the heel-seat requires a crown of 22 nails whitch can be reduced according to the kind of processing. The tacker can work with nails from 7 to 12 mm. lenght with round and square leg. Nailing with hydraulic movement at low noise.
HAMMER GROUP - The hammers are grouped two by and this allows a rapid and easy maintenance. Possibility of adjusting the closure of the wipers directly on the last with independent adjustment of the right and left wiper closure.
WAISTS - The machine has been studied to change the height of the heel (from low to high) quickly and with minimal adjustments. The waist lasting group is provided with an automatic device for the right or left shoe. Two adjustable side pincers, allow the upper puling in order to obtain the max adherence. According to the type of shoe the machine has three different possibilities of sequence for the waist lasting. The injector covers the numbering from 24 up to 52.
Technical details
Production diaria:
140 pairs/hour
Air comsumption 4 Bar:
5 Lt/Min
Electric power:
5 Kw
Dimensions:
cm. 130(52") x 135(53") x 138(55")
Net weight:
Kg 800 (1764 LBS)
Gross weight with crate:
Kg 1000 (2205 LBS)