Hot & cold back part moulding machine with stitch-down flanging device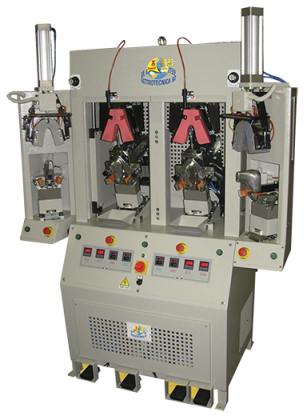 Electronic control with digital visualization of heated moulds temperatures.
Clear view of the back seam during loading of the upper onto heated mould, thanks to mould inclination towards the operator.
On all the versions equipped with flanging system: light back gauges with graduated scale allowing a perfect upper positioning and centering and a perfect fixing of flanged margin entity.
The moulds are constructed according to the shape of customer's last.
Compact dimension of machine, reduced area occupied in factory.
Technical details
Dimensions:
cm 144(57") x 86(34") x 200(79")
Net weight:
Kg 540 (1190,5 LBS)
Electric power:
Kw 3